Pedestrian and Driver Tips for a Safer Halloween
Dark costumes, burnt-out streetlights, distracted drivers—oh my! Halloween is just around the corner and as exciting as the holiday can be for the little ones, it gives us a serious case of the heebie-jeebies knowing that children are more than twice as likely to be hit by a vehicle on Halloween than any other day of the year. Luckily, there are a few simple precautions that trick-or-treaters and drivers can take to significantly reduce the risk of pedestrian/vehicular accidents that take Halloween from spooky to terrifying.
Tips for Trick-or-Treaters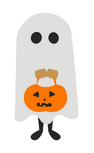 Choose Costumes Wisely 
When it comes to choosing a Halloween costume, encourage your kids to avoid black or dark-colored costumes and instead go with light or bright colors. Bright colors are easier for drivers to spot in the dark.
Also, avoid costumes with masks, as they have the tendency to obstruct vision, which could make it harder to see oncoming traffic. Face paint and makeup are great substitutes for masks!
Light Things Up
While your children may object to wearing a tacky reflective vest over their costume, glowsticks are a great option because they increase visibility in the darkness AND kids love them. Have them wear one around their necks, wrists and ankles. Other options include carrying a flashlight or sticking reflective tape on costumes and/or candy bags.
                       Location is Key
If you're debating on where to take your kids trick-or-treating, select an area that has streets with sidewalks and is well lit. If you don't have access to a neighborhood with sidewalks, be sure to walk on the left side of the road, so you can see oncoming traffic. Regardless of the neighborhood you choose, be sure to only cross the street at crosswalks and street corners. Better yet, check out trick-or-treating or trunk-or-treat events at local malls, churches and other organizations where there is no through-traffic.
Tips for Drivers

Driving on Halloween can be a little chaotic, which is why it all comes down to caution. As tempting as it can be to rubberneck at houses decked out in creepy-crawly decor, try to spot your neighbors disguised in festive ensembles or referee an argument in the back seat about who stole whose candy, we can't stress enough the importance of staying alert. Distracted driving is too frequently the culprit of motor vehicle accidents—80% of all accidents to be specific.
Make sure to:
Be extra careful pulling out of driveways and alleys.
Drive at or below the speed limit, especially in neighborhoods.
Continuously scan the road, sidewalks and medians for princesses, ghosts and pirates that may run into the street unexpectedly.
And lastly, make sure your headlights are turned on and be especially watchful for kids wearing dark-colored costumes.
Speed Patrol in Action
If you're an owner of a Speed Patrol sign, there could not be a more perfect occasion to put it to use. If you live in a no-outlet neighborhood, we highly recommend placing your sign toward the entrance of your neighborhood or street you live on. If you reside in a larger neighborhood or a neighborhood with multiple entrances, we recommend placing your Speed Patrol sign 300 yards before or after your driveway.
Click here to learn more about how Speed Patrol can make your streets safer whenever pedestrians are present.
---
How Do You Stay Safe During Halloween?
Share a picture of your creative Halloween safety solution with us on social media!