Residential communities frequently face the issue of unsafe drivers impacting the quality of life within their community. When drivers regularly speed or cut through neighborhood streets or apartment/condo parking lots, concerned residents will file complaints and expect the managing association to come up with a solution.
Managing associations are counted on by owners and residents to create and enforce rules that maintain a better living environment for all. However, up until now, most community associations had limited tools to address the issue of unsafe driving. Speed Patrol is here to give managing associations and neighborhood boards the tools they need to finally answer these complaints with an effective solution.
This page is the starting point for association boards, HOAs, and management associations to begin creating safer streets within the neighborhoods or communities they oversee.
Choosing the right Speed Patrol products, accessories and implementation strategy will help you achieve the most effective outcome. On this page, managing associations can explore the products that Speed Patrol recommends to best address their community's unique situation. Also provided are tips for using the sign most successfully. Spend time exploring the featured articles and the Speed Patrol Articles page to learn more about the benefits of radar speed signs/driver feedback technology for communities.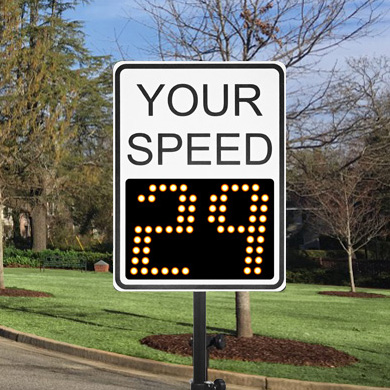 Speed Patrol Sign
Our lowest-cost solution to simply and effectively slow speeding drivers.
Read more…
The Speed Patrol sign can be placed anywhere in the community to effectively slow speeding drivers.
Larger communities may purchase multiples of the Speed Patrol sign at a discount. To maximize impact, the Safer Community kit can be purchased as an add-on to create a community-wide safe driving campaign.
Safer Community Kit
An all-around traffic calming solution for residential communities.
Read more…
The Safer Community Kit is the ultimate way for managing associations to approach the critical problem of community street safety in a direct, competent and effective manner.
We highly recommend this kit for large residential communities that need an all-around traffic calming solution on a daily basis as well as for occasional community events.
Coming Soon!
Good Neighbor Kit
Everything needed for a low-cost, localized safe driving campaign to increase neighbor buy-in and safety awareness.
Read more…
The kit comes with an adjustable, portable stand so the sign can be placed in the most effective position along the road. The portable stand also enables residents to move the sign to various problem locations around the community.
Coming Soon!
Special Event Traffic Kit
Tools to increase driver awareness and safety during special events.
Read more…
Whether it's a seasonal festival, community concert, or youth soccer practice, most communities have regular events with large crowds, requiring drivers to be more attentive.
The campaign materials included with the Special Event Traffic Kit notify residents when, where, and why the sign will be used, adding context and significance to the need to drive more attentively.
Coming Soon!
Creative Uses for the Speed Patrol Sign
Seasonally with traffic
Use during school months when traffic levels increase.
On a rotating basis
Rotate signs between different trouble areas in the community.
Create a neighborhood loan-out program
Residents can use the signs when needed for family, friend or kids events at their home or in their neighborhood.
For neighborhood events
Help create more attentive drivers around events where more pedestrians are present.
Holidays
Place along the street on Halloween for trick-or-treaters or Easter for egg hunts.
Tips for Implementing Your Sign
Residential Roads
Most often, Speed Patrol signs can be used the same way as other, temporary "Slow Down" sign seen on the side of the road. However, some cities regulate where, how, and what signs are placed near roads. It's always a good idea to check local ordinances for guidelines.
If your city has restrictions, don't worry! Instead, go to our Articles page for resources and information to share with your local municipality or police department to generate support/approval for the Speed Patrol sign.